Now you can Buy a Moon Map from Lunar Resources Registry.
Lunar Resources Registry (LRR) is releasing two printed maps of the Moon:
Open Lunar Registry Map of Human Activity.
Based on LRR's public and internal sources, this map of human objects on the Moon includes, crashed spacecraft, boosters, probes, landers, crew missions, and rovers. This is an Educational Map, ideal for students, schools, universities, where the focus in space, science, and international politics.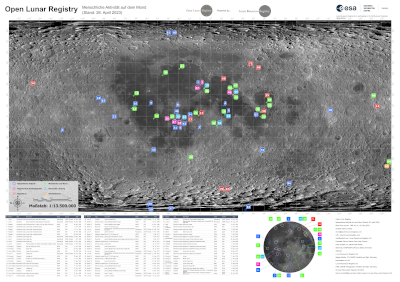 Prospective Lunar Mines and Infrastructure Bases
Have you followed the news about the development of based on the Moon, the eventual rush to Moon Mining, and wondered exactly where these developments will take place? Lunar Resources Registry, using public and internal sources, has developed a unique map of the moon showing:
Prospective locations of mines, from titanium, to iron, and water and oxygen.
Infrastructure bases, like ports and communication locations.
To find out more, bookmark this page or fill in our form to keep in contact.
Product Specifications:
Printed on paper.
Printed Sizes: A1 or A0, or per customer specification.
Delivery: Can be delivered rolled-up in a cartoon or capsule, or in a frame.
Keywords: Moon Map, Lunar Map, or Map of the Moon.