Presenting Open Lunar Registry Maps at Hessen in Space
2nd of June, Lunar Resources Registry (LRR) was part of 'Hessen in Space', organised by the State of Hessen, in Germany.  event in Offenbach, Germany. LRR presented a physical Open Lunar Registry 'Lunar Map' to the Minister Präsident (Governor) of the State of Hessen Dr. Boris Rhein, as well as the State Coordinator for Space in Hessen, Professor Johann Wörner (former Director General of ESA), and Dr. Thomas Reiter, Europe's pioneer Astronaut who had flown missions on Soyuz and the Space Shuttle.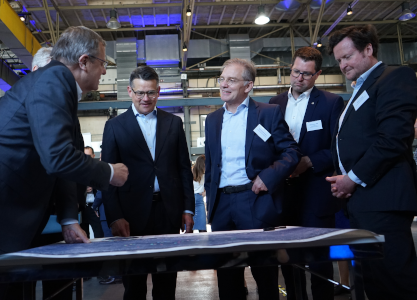 Left to right, front row: Professor Johann Wörner (former Director General of ESA), Minister President (Governor) of the State of Hessen Dr. Boris Rhein, Kevin Mac Gowan (Co-founder of LRR), Simon Drake (CEO and Co-founder)
November 2022: The Lunar Commerce Portfolio is a realistic assessment of potential lunar businesses and identified nine market sectors.
Lunar Resources Registry has been included in the final selection for the Capitol Momentum NewSpace Ignite Startup Competition 2022
November 2022. Link: https://lnkd.in/eiNBCSXn
July 2022: Space Debris needs innovative solutions, and ultimately destinations for potentially dangerous debris. Thanks to the initiative of three emerging space companies, a forward-thinking approach is the designation of an area on the Moon's near-side as a Space Debris Lunar Landing Zone, for planned de-orbiting and potential recycling of spacecraft; satellites, probes, boosters. It is also alternatively named a Space Debris Graveyard.
Strategic Relationship between Lunar Station and Lunar Resources Registry
30th November 2021 – Lunar Station and Lunar Resources Registry have formed a Strategic Relationship to combine analysis of terrain and resources, with a legal framework and registry platform, to enable industrials to develop business models based on sustainable operations on the Moon.
The complimentary services of Lunar Station's advanced analysis and the Lunar Resources Registry comprehensive platform service, creates a due-diligence process to measure the commercial viability of locations on the Moon, be it mining, energy, communications, or infrastructure.
About Lunar Station
Lunar Station provides client access to the most comprehensive suite of new data refined into new Lunar insights by way of its MoonHacker™ Intelligence Platform. Mining, Energy, Communications, Financial, Pharmaceutical and Logistics organizations will have the easiest, advanced, and scalable access to the best insights about the Moon that has ever existed before. The MoonHacker™ Intelligence Platform provides comprehensive Lunar environmental intelligence by completely characterizing, terrain, power, minerals, communications, and weather for any spot on the Lunar surface for any point in time. Created in 2016 on the campus of MIT, Lunar Station Corporation is based in Cambridge, MA.
About Lunar Resources Registry
The Lunar Resources Registry (LRR) is a transparent registry of Public (e.g. Space Agencies, science) and Commercial activity on the surface of the Moon. LRR has developed a Registry Platform, as well as the necessary Space Resources Legal Framework, to give the CisLunar and Space Resources industry a platform to plan and co-ordinate future surface operations, by registering resources, energy, and infrastructure locations, on the Moon. A Registration with LRR is not a right, nor an exclusive claim, to a resource, or a specific location.
Read more on Strategic Relationship between Lunar Station and Lunar Resources Registry PDF, on Lunar Station, and on LinkedIn.
Press Release: Lunar Resources Registry (LRR) has landed
3rd March 2021 – Lunar Resources Registry (LRR) has landed.
March 18th, 2021: Lunar Resources Registry UG (LRR), based in Frankfurt, has commenced trading in the vicinity of the European Space Agency (ESA) headquarters in Darmstadt, Germany. The LRR enables commercial and non-commercial organisations to register their intent to explore and extract resources (e.g. for in-situ resource utilization) within current and future legal frameworks.
Read more on OPENPR, CESAH in Darmstadt, and Frankfurt Valley in Frankfurt am Main (Germany).
Interviews
Lunar Resources Registry in context of the New Lunar Economy
Interview 21st April, 2022 with Space Hubs Network.
Mining in Space…
Audio Interview with Ex Terra Space Commerce Journal – 1st April 2021 – Mining in Space.
30 minutes. Briefly covering Asteroid Mining and focussing on Lunar Mining. Video below.
The Commercial Case for Lunar Exploration & Mining on the Moon